1. Investigation of the inhibition of respiratory enzymes through the binding of sulfur ion to iron in heme proteins:(Figure 7)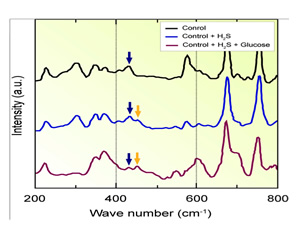 Figure 7
The lethal effects of inhaling hydrogen sulfide are well known. Hydrogen sulphide toxicity is caused by inhibition of a key respiratory cellular enzyme, "Cytochrome c oxidase". In other words, cells cannot utilize oxygen because of the presence of hydrogen sulfide. The mechanism of enzyme inhibition is due to the sulfur ion (S ion) in hydrogen sulfide preferentially binding iron (Fe) rather than oxygen (O) in the active centre of heme proteins(6). Consequently, this leads to a hypoxic state (histotoxic hypoxia) in tissues, which proceeds to glycolytic metabolism and induces various cancer symptoms including increased proliferation and metastasis.
Figure 7 compares Raman measurements on control samples from peripheral blood from a healthy individual (control), with samples of blood to which hydrogen sulfide gas was added, and samples of blood to which hydrogen sulfide and glucose had been added. While the change in the Resonance Raman spectra (See arrow in figure 7) was slight when blood was mixed with hydrogen sulfide, the presence of glucose induced strong binding of the sulfur ion to the heme-iron from the heme group in hemoglobin.
(2) Investigation of anti-tumor effect by inhibition of sulfur-containing gas diffusion in tumors: (Figure 8 and Figure 9)
Major findings from this research are that tumor tissues generate sulfur-containing gases such as hydrogen sulphide and methanethiol through enzyme-independent chemical reactions, and that by inhibition of gas diffusion, suppression of tumor proliferation can be achieved without the use of anti-cancer drugs.

Figures 8 and 9 compare untreated nude mice in which cancer cells were transplanted into the flank (control mouse) with mice into which hyaluronic acid gel solution was injected around the outside of the tumour tissue to form a layer trapping the gaseous sulfur-containing compounds (HA-injected mouse). While the control mouse showed tumor growth of 5.6 mm2/day, HA-injected mice showed growth at only 3.6 mm2/day (approximately a 36% decrease in tumor growth). These results demonstrate that the inhibition of local and systemic metastasis as well as the potentiation of the efficacy of anti-cancer drugs can be achieved by preventing the diffusion of sulfur-containing gases.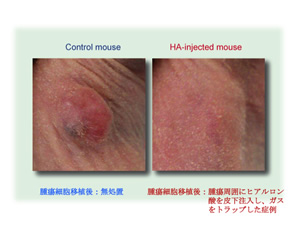 Figure 8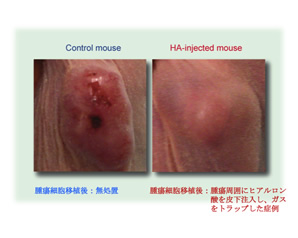 Figure 9